UCanCode ToolBox ---
Free Products List:
Project backup Visual Studio Project.
Backup an Existing Visual Studio project.
Author homepage:
UCanCode Software(www.ucancode.net)
Introduction
UCanCode ToolBox V1.7 can be used to perform one or more of the following operations on Microsoft Visual C++ projects (version 5.0 or 6.0):

Backup an existing project

Step 1

Use the first wizard screen to select the Visual C++ project file to process. You can enter/browse or select from the list to a project filename. The wizard handles MAK, DSP, DSW files.
Step screen: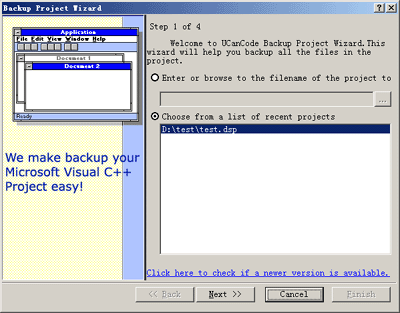 Step 2

After choosing a project filename and clicking Next, ToolBox parses the project file to determine its name, and displays the name on the second wizard step. The following selection is provided:

Backup the Project-- This option determines if the selected project will be copied to a new location. If Yes , a valid new location must be selected or entered; the project and its files will be copied to this new location (the original project will not be modified). Click Next button to finish this step.

Step screen: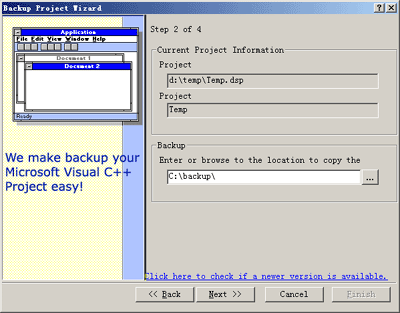 Step 3

The third wizard step is used to review and process your selections. After reviewing the changes that will be made, click Next to begin processing. The wizard parses the Visual C++ project file to determine the files that comprise the project. If the project is being backup, each filename in the project that begins with the project filename root is copied to match the new location.

Example3: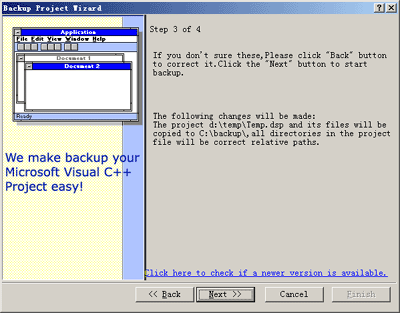 Step 4

After processing is complete, the last wizard step is displayed. To open the new or updated project immediately, check the checkbox and click Finish. The project will be opened in the Visual C++ IDE, where it can be built, modified, and debugged as needed.
Example: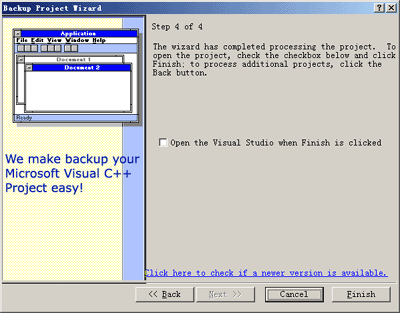 If you have find bugs, please let us known.
Click here to download(New! Build 03/17/2002)