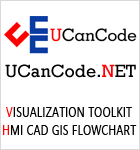 Download Evaluation

Pricing & Purchase?


E-XD++Visual C++/ MFC Products

Overview


Electronic Form Solution

Visualization & HMI Solution

Power system HMI Solution

CAD Drawing and Printing Solution

Bar code labeling Solution

Workflow Solution

Coal industry HMI Solution

Instrumentation Gauge Solution

Report Printing Solution

Graphical modeling Solution

GIS mapping solution

Visio graphics solution

Industrial control SCADA &HMI Solution

BPM business process Solution

Industrial monitoring Solution

Flowchart and diagramming Solution

Organization Diagram Solution

Graphic editor
Source Code

UML drawing editor Source Code

Map Diagramming Solution

Architectural Graphic Drawing Solution

Request Evaluation



VX++ Cross-Platform C/C++

Overview




ActiveX COM Products

Overview




Technical Support



Get Ready to Unleash the Power of UCanCode .NET
UCanCode TFC(Time Foundation Class)
---
Product Information:
TFC Gives you all the components your development team needs to display or select date and/or time values in any application. By including a Month calendar control, a Year calendar control. TFC makes it easy to incorporate robust calendar features in your program's interface today
Features:
Choose from multiple calendar display formats (year, month, week, day, or range of days).
Create your own custom calendar appearance or begin by choosing from one of two AutoStyles to help you create commonly used calendar looks.
Customize the Calendar control to use international or user-defined month, week, and day names.
Choose a format for displaying the name of the week (1-3 letters or the full name).
Customize all calendar elements (days, weeks, selections, headers, etc.) with text and pictures.
Calculate the date using predefined functions (days 360, adjust date, return weekday from date, return week number from date, and more).
Print and print preview support.
Ship with full MFC Source Code.
Calendar Elements
You can customize the appearance of the Calendar control by changing characteristics of different parts, or elements, of the control including:
the year header
the month header
the entire weekday header
an individual weekday name in the weekday header
all days
an individual day
the drop-down year or month list
the currently selected day or days and the currently selected year or month in the year or month list
the entire week number column
a specified portion of the week number column
all unavailable days
all recurring days
all specific days
month header or year header buttons
Full Visual Studio.NET / .NET 2005 support, shipps with 100% VC++/MFC Source Codes.