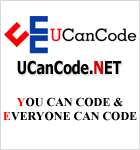 Get Ready to Unleash the Power of UCanCode .NET
| | | |
| --- | --- | --- |
| Delete files from project | | |
---
---
VC++ 6.0, VC++ 2003, VC++ 2005
You can delete files, folders or output files from DocVizor projects. In addition to removing unnecessary files, this allows you to reorganize your projects.
Activate the desired project view.

Select the file, folder or output files you wish to delete.

Click right button of the mouse.

Select the "remove" Sub menu.

When deleting files, DocVizor does not present a Confirm dialog, nor provide an undo option. If you delete a file accidentally, simply "Add File" the deleted file(s) to the project.
NOTE: You cannot remove individual classes from a project. Instead, you must delete the file that contains the class you wish to remove.

NOTE: DocBuiler updates the classview automatically when a project file is deleted.

NOTE: When you delete a folder, the folder and its contents are removed from the project.