Our Customers
---
Purchasing options:
"World leading Visual C++/MFC Component!"
UCanCode Software is committed to delivering the highest quality software to its customers. We invest heavily in developing our technologies and have consistently been selected to receive technical awards for our research and development. These awards recognize both our company and individual staff members.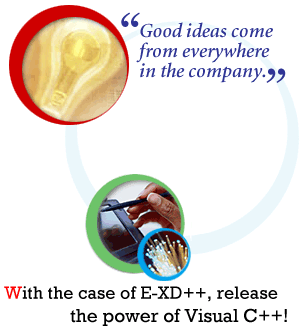 This is a partial list of companies that are using UCanCode Software products:




EPRI
ACOM Solutions
Adscope system Inc
LogASys tech
Marconi Mobile
Vaberlin
Advan SoftWare
Mapdotcom,BeaWare
Aecsoft SineSoft
DATALOG Software
Infonegocio
Meyerthole Radtke u. Siems
TBE
Newage AVK SEG Group
Gpa-gmbh
Manopt
Advanced Security Concepts
AHSENE BOULEMNAKHER
CSDETN Software
Ground Zero Development
We Have Hope International

Goodrich Corporation.

BARR-MULIN INC.

Applied Cytometry Systems (ACS)

eCopy, Inc.

Cingy Business Systems
Iineieit Line Gis Ltd.
Distel Map Software
Cernica Ltd
Click ToDo Ltd.
Simle CAD Software
KineLeft Solutions
Innernt Design Software
Siemns Light Ltd

Impuls GmbH

Digi Design Corp.

Amount Buesin

Bond DSL

Applied Cytometry Systems

.

Active Pdf.
Pi Technology
Inter.net
Eannoe Virdie
Legis Systems.
Omitec Group.
MANDO MAP&SOFT.
OPTITAS
Abaris AB
National Bank
Visual Intelligence Systems, Inc.
Sawtooth Technologies
Value Payment Network (VPN)
CAST GROUP
Analist Group
AOL
Kidje Software
Uiuep Ltd.
TDY System Inc.
Orgio
Nat Power
Beoing
Span
Whole Bus
Mat Mobie
Cnnet Inc.
Perixel Bank
FlySky Software
National Technology Inc.
DPL Software
DigitalWave Inc.
Justcroft International Ltd
Shure Incorporated
CYC
SBC Inc.
FrankMark Technology Inc.
Dolphin inc.

...